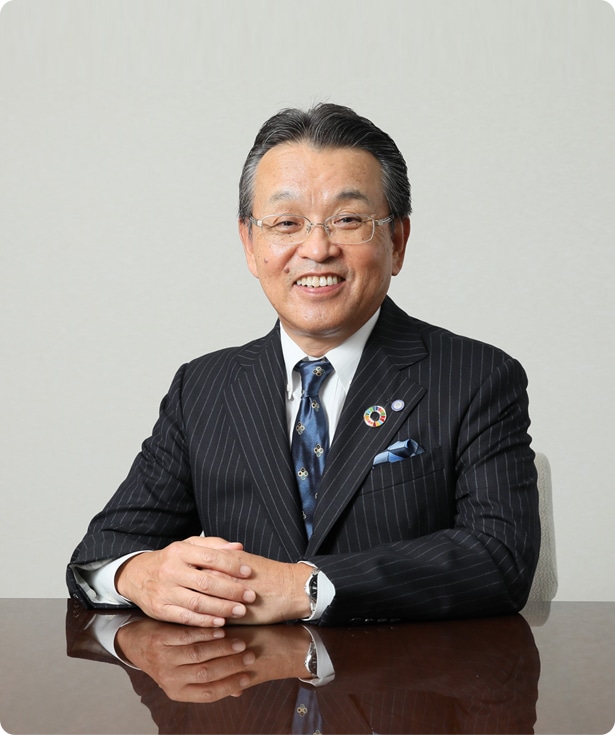 Representative Director & CEO
FANCL Corporation

"To eliminate the 'Negativities' of the world with a sense of integrity", our unchanged Corporate philosophy.
"Mutenka Cosmetics". Achieve your future skin beauty. Even customers with delicate skin can use them with comfort. "Supplements". With excellent effects but reasonable prices. "Aojiru Juice" can easily improve low vegetable intake. "Germinated Rice". A staple with enhanced nutrition value.
FANCL products are delivered to customers with the purpose of eliminating "negativities" which include but are not limited to "anxieties", "dissatisfaction" and "inconvenience". Heading towards our 41st anniversary, we received support from our many royal(=valued) customers over the years and would like to send our heartfelt thanks for your continued patronage.
Starting from last year, the spread of the COVID-19 pandemic is still not under control. More than 160 million people have been infected all over the world. Global deaths have exceeded 3.4 million and more than 12 thousand people lost their lives in Japan alone (As of 26th May, 2021). Even now, there are people who are suffering from the pandemic symptoms and its after-effects. We would like to express our deepest sympathies along with our best wishes to all of those affected.
The COVID-19 crisis can be defined as a human threat to humanity. All of us at FANCL with the philosophy to eliminate "negativities", keep thinking about what we can do. First of all, we continued to provide products to support customers' health and beauty. Then, we have taken on the new challenge to supply products in shortage to meet the increasing needs for masks and sanitizers, etc.
During the COVID-19 crisis, "immunity" support has been the point of focus, FANCL 'Immunity Support' supplement was quickly developed to meet market needs in December 2020.
Our customers have formed the base of FANCL. The COVID-19 crisis let us rediscover our thankful connection with our customers. Even under the COVID-19 crisis, our customers keep purchasing our products and also send us letters with encouraging words. To know our customers and get close to our customers, all employees promise to make a sincere effort to meet our customers' expectations.
Heading towards 2030, the slogan in our future market plan "VISION2030" is "Creating a more beautiful and healthy world". This year, "To be a beloved global company" was added to the slogan. Our founding philosophy, "to eliminate the 'negativities'", has included the wish to further internationalize our business. However, the base is formed by facing our customers frankly and earning their trust. We seek your continuous patronage and support for the new challenges of our employees.
Finally, we would like to send our best regards and pray for the control of the COVID-19 crisis in the near future.
Representative Director & CEO
FANCL Corporatio
Kazuyuki Shimada